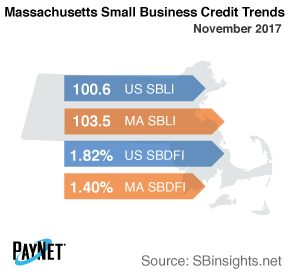 Press Release – updated: Feb 15, 2018 10:00 CST
Boston, MA, February 15, 2018 – PayNet, the leading provider of small business credit assessments on private companies, announces that in December 2017 more of Massachusetts' small businesses defaulted on existing loans. Of the 18 major industries, 7 worsened in the state compared to the previous month.
In spite of a 7 basis point increase from November, Massachusetts' PayNet Small Business Default Index (SBDFI) at 1.47% was still 36 basis points under the national SBDFI level of 1.83%.  Over the last year, Massachusetts' SBDFI rose 37 basis points, while the national SBDFI has remained steady.
The three industries with the highest default rates in Massachusetts were Information (3.21%); Public Administration (2.78%); and Manufacturing (2.05%). Nationally, Information had a default rate of 3.14%, with a difference of +0.91% compared to the prior year, while Massachusetts had a variance of +1.72%.
Coming in at 102.9, the PayNet Small Business Lending Index (SBLI) for Massachusetts improved 0.3% from the previous month's state level and was 2.5% higher than the national SBLI level of 100.3 this month. The Index is basically unchanged from a year ago.
"Time will tell how these conditions will affect Massachusetts's economy going forward," explains William Phelan, president of PayNet.  
Source: PayNet