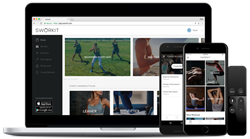 This is a unique opportunity for us to show how our training programs can change the way people think about getting healthy, offering them on-the-go fitness anytime, anywhere, from any device
WASHINGTON February 15, 2018
Sworkit, the popular fitness service whose guided workouts and plans are used by millions of people globally, is one of the inaugural partners in Rally MarketplaceSM, a new rewards and incentive feature offered within Rally®. Rally is a digital health platform offered by Rally Health, Inc., that recommends personalized, achievable lifestyle changes, and rewards members for accomplishing their goals. More than 30 million consumers have access to the Rally platform.
With Rally's new Marketplace, users who complete healthy activities can exchange the Rally Coins they earn for discounts on brand-name goods and services, including discounts on Sworkit memberships, which enable people to access more than 100 workouts and workout plans from any mobile device.
"We are excited to be one of the initial partners in Rally Marketplace," said Sworkit CEO Ben Young. "This is a unique opportunity for us to show how our training programs can change the way people think about getting healthy, offering them on-the-go fitness anytime, anywhere, from any device."
Sworkit Premium memberships normally run $29.99 for 3 months or $59.99 a year, but will be available at a discount to users of Rally Marketplace who use their earned coins to select a Sworkit membership. Sworkit's 6-week guided training programs and fully customizable workouts feature strength, stretching, cardio, yoga and pilates video exercises demonstrated by real trainers.
###
About Sworkit
Nexercise launched Sworkit in 2014 to deliver on-demand, video exercise programs that can be done anywhere, anytime. Its development team is made up of an ACSM certified personal trainer, US Army Reserves captain, and software developer, whose unique backgrounds gave them insight into every facet of the fitness industry.
Sworkit has been featured on ABC's Shark Tank, as well as in Lifehacker, Women's Running, Gizmodo, Mashable, In Touch, Brit+Co, Elle Magazine, Shape, Parents Magazine, and more, and received SELF Magazine's 2017 Best Bodyweight/HIIT Workout App.